A Guide to Contract Packing
What is contract packing?
Rather than packing its products in-house, a manufacturer or retailer can outsource the job to a contract packing company (often called a contract packer).
The contract packer then packs the products for redistribution. Typically, the products go straight to market.
Contract packing, contract packaging and co-packing what's the difference?
There isn't one these are all different names for the same service.
Looking for a contract food packer?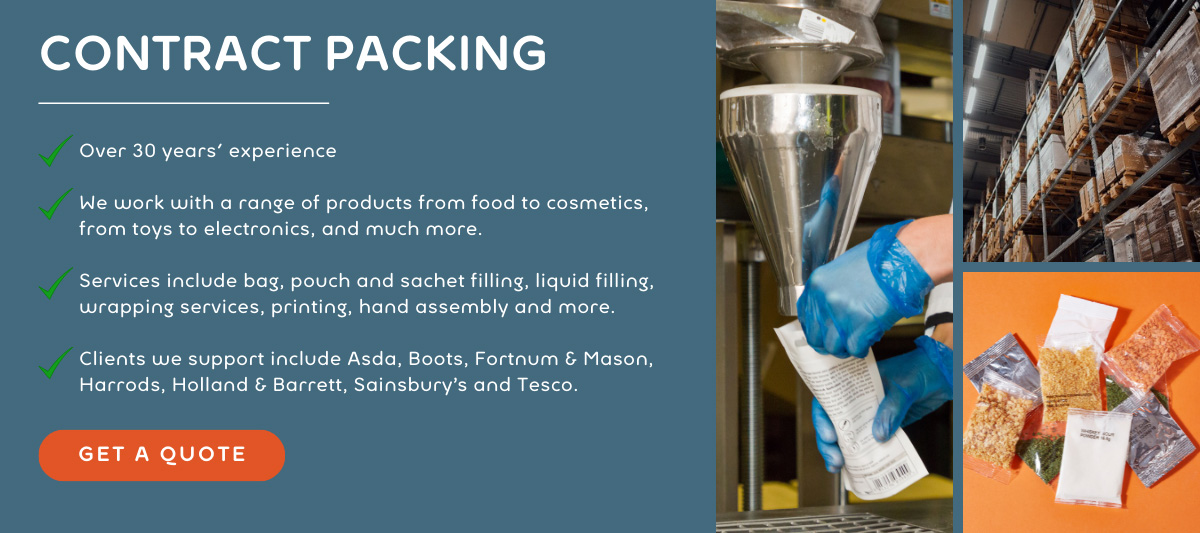 Gas flushing
Injecting inert gas into the packaging to flush out oxygen and prolong shelf life.
Download our company brochure below to find out more: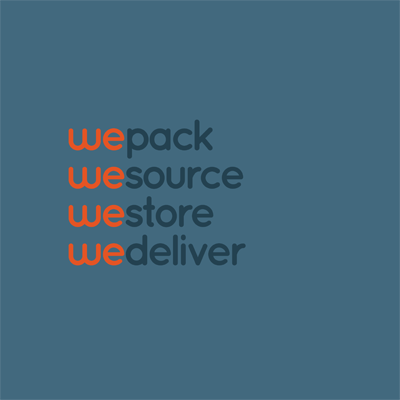 ​
Why should we use a contract packer?
Perhaps your business manufactures and ships items in bulk to keep costs down. You package the products for transportation only-meaning they aren't yet ready for retail.
Rather than invest in machinery, staff and training to pack the products yourself, you can outsource this work to a contract packer.
Do use a contract packer if you:
lack the right equipment or expertise in-house
are working to full capacity but unable to meet demand
are soft-launching a product and don't want to commit the finances needed to pack in-house
have a product which is available only temporarily, such as a promotion or a trial
have run into operations problems—for example, you've laid off staff or your current packing lines need maintenance
don't have storage space, as normally you import products and send them straight to store
simply want to control your costs
Don't use a contract packer if you:
lack the capacity or finances to put the contract packager's suggestions or recommendations into practice
are working with small product runs
have the proper equipment in-house
How do we hire one?
Choose the ideal contract packaging company for your business by following the process below.
1. Work out exactly what you need
Clearly identify your needs or what specific problem you want the contract packaging company to solve.
Consider your budget honestly and carefully, as it's easy to underestimate how much packaging can cost. If the contract packer has experience and provides a high-quality service, it should be able to assess how to adjust your project to keep it within your budget.
2. Find potential candidates
Compile a shortlist of options and contact each company. Ask the following kinds of questions:
Have you worked with products similar to ours?
What challenges have you faced, and how did you overcome them?
What general contract packing experience do you have?
Can you provide references?
How do you determine the cost of a project?
What quality control and production control processes do you use? Do you have any industry accreditations?
What size company you should use
Bigger isn't always better, but at the same time the contract packer must have the capacity to deal with your product lines.
Smaller contract packers are often better at developing custom solutions with you and can pay you more attention. They may be more invested in your product.
However, if you have a very large production line, make sure the contract packer can prove it has the capacity to cope with it.
Where the company is located
Take account of where the contract packer is based, as you can save on the cost of transporting goods from your manufacturing base to the packing site.
However, often the money you'll save on outsourcing your packing can outweigh the cost of getting the product to site.
Read more about what questions to ask co-packers
3. Meet in person
The packaging process is often complex and varies from job to job, so organise a face-to-face meeting with the company to discuss your project.
Be open to suggestions. Contract packagers are used to coming up with innovative solutions to problems.
4. Ask for proposals
Request a project proposal from each candidate on your shortlist. Make sure they explain:
the scope of work—a general description of what they will do for you
what services they will provide
what the project will cost (and provide a schedule for payment)
5. Finalise and sign a contract
Fine-tune the details of the proposal and sign a contract packing agreement with the packing company.
Read more about what should go in a contract packing agreement
6. Stay in touch
Make sure you remain in good communication with the contract packaging company. This will help them to get to know your business and operations quickly.
Does a contract packer pack any product?
It depends what specific production lines it operates. Generally, the machines a packing company uses don't restrict it to one particular type of product (for example, just cosmetics or just food).
A contract packer will typically deal with a range of products, from toys to electronics, cosmetics to food, and even more specialist products like chemicals or ionised water.
WePack can pack both food and non-food items. Click the links below to find out more:
How does food contract packing work?
Food can be packed in lots of different types of packaging. Most food is packed using methods where the packaging is already made and then filled.
Food in sachets will be packed using a technique known as vertical form fill seal. Solid foods like chocolate bars can be pushed along a conveyor belt and packed using horizontal bagging techniques such as flow wrapping.
A customer can either supply the packaging themselves or have the contract packer source it for them.
Read more about contract packing for food
How much does contract packing cost?
Prices vary a lot from customer to customer, as every job is different. Here are some factors that affect the total cost of the job:
Quantity—small runs usually cost more than large ones
Type of packaging—some options are more expensive to make, and so have a higher price
Print options—printing designs onto packaging adds to the cost, although digital printing can bring the price down a little
Audits—customers often want to audit a contract packer's service before hiring them, which also adds to the overall cost
Read more about cost considerations for contract packaging
Find out more
Packing projects: what do businesses need to know?
FAQs about packaging and contract packing
To find out more about contract packing please contact WePack on 0115 852 9000 or get in touch via the form below.