Hand assembly
What is hand assembly?
Hand assembly is the manual packing of products that can't be filled by machinery or automated on the production line. This often includes the filling of large containers or boxes with unique or customised orders.
WePack's hand assembly services offer custom packing solutions for businesses with fragile or unique items. Our hand-packing capabilities include filling and sealing containers, customising boxes and product kitting.
With WePack, you can rest assured that your products are packed with utmost care. Whether you're packing for a special event or need help with everyday packaging and shipping, WePack has you covered.
Our packers work fast and efficiently to get your products out the door and on their way to customers.
Get started today with a free quote. Our experts will work with you to find the best hand assembly solution for your business.
What products are suited to hand assembly packing?
Hand packing is ideal for customised containers or packages, like gift boxes, that are tailored to each customer and therefore can't be mass-produced using a machine. This also includes products that are awkwardly shaped or need to be grouped or ordered by size or colour.
Our hand assembly service is also ideal for adding unique finishes to your packaging, like labelling completed packages.
Fragile and delicate items are also suited to hand-packing, as our team of expert packers handle with additional care, compared with automated machines.
Other items suited to hand-packing include:
Mugs and crockery
Promotional packs including a range of sample products
Gift sets
Unique food and catering packages
Why choose WePack?
Our team of expert packers has a track record of delivering custom hand assembly services safely and accurately, so products reach the customer in perfect condition. And we're fully food, alcohol and quality accredited, so you can trust us to deliver all your hand-packing projects to the highest standard.
Plus, we have over 30 years experience in contract packing and hand assembly, and we'll work with you to find the simplest, quickest and most cost-effective solution for your products.
Contact us today to speak to one of our consultants. We'll discuss solutions and provide you with a custom quote.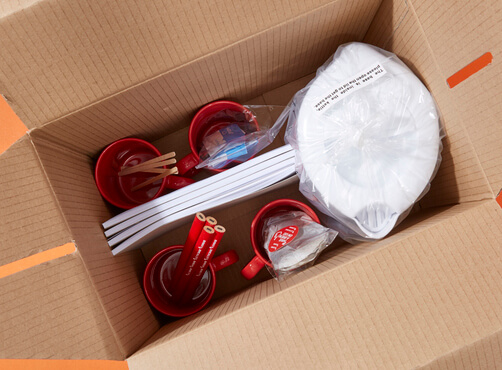 Benefits of hand assembly
Hand packing provides additional care over the handling of fragile items compared with machine filling. Plus, it ensures accuracy when orders must be unique or customised.
Outsourcing hand assembly services to WePack saves on the time and resources needed to handle packages in-house. Our team of expert packers handle all your hand-packing needs in our facility and even store the finished products safely until they're ready to hit the shelves.
How much does hand assembly cost?
Our minimum order fee for hand assembly services is £1,450 + VAT.
Visit our costs page to learn more about how our prices are calculated.