Deionised Water
What is deionised water?
Deionised water is pure water with most of the mineral ions and impurities that are found in untreated water, removed. Also known as demineralised water, this form of water has a wide range of applications where regular tap water can be damaging or ineffective.
Deionisation involves running water through electrically charged ion-exchange resins, which exchange the dissolved mineral salts for hydrogen and hydroxyl ions, which are then combined to make highly pure water.

Mineral ions removed include:
● Sodium
● Calcium
● Iron
● Copper
● Chloride
● Sulfate
Removing the mineral ions from natural water prevents scale formation, leaving a purer product that is ideal for use in cleaning and other activities where scale build-up proves a problem. Once deionised, the contaminants and trace minerals are removed from this purified water, making it ideal for a variety of uses. For quality deionised water UK, WePack has got you covered.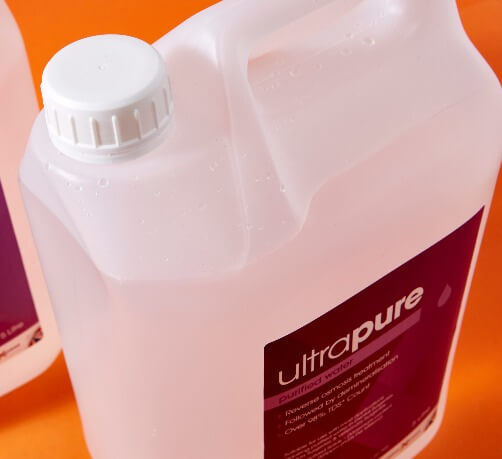 What is deionised water used for?
Deionised water is used in a range of activities that require pure, untreated water. It's especially useful in areas with hard tap water. If you're looking for deionised water suppliers, WePack is the company to go to.
Deionised water can be used in a number of different ways, ranging from household cleaning tasks to specialised machinery that requires pure water.
Uses for deionised water include:
● Household appliances - for steam ironing and window cleaning, leaving no white residue behind
● Radiators - ideal for cooling systems, and doesn't cause corrosion or build up
● Vehicle batteries - deionised water without mineral ions don't conduct electricity and reduces corrosion of cells
● Boiler feeds - using deionised water for boiler feeds avoids deposits and decay
● Aquariums - deionised water is free from contaminants and minerals that can harm aquarium fish
● Specialist machinery - such as sterilisers and autoclaves; requires purified water like deionised water
For deionised water manufacturers you can trust, look no further than WePack.
Why choose WePack?
WePack is a specialist manufacturer and provider of deionised water in the East Midlands. Plus, we're fully quality accredited, so you can trust us to deliver exceptional products and customer service.
We also deliver a complete range of co-packing services – making us the one-stop shop for any packing project.
We also provide deionised water packaging services, using a high quality deionised water packing machine to ensure that all of our deionised water products are safely sealed and securely packaged. This prevents potential leakage and spillage.
At WePack, you can count on us to deliver excellent deionised water solutions, with a stock of neatly packaged products that meet your needs and exceed your expectations.
Contact us for more information on our full range of services.
Product specification
WePack sells deionised water in 5-litre natural jerry cans.
Our deionised water packaged solutions can be tailored to your specifications and requirements.