Contract Filling
What is contract filling?
Contract filling is the outsourcing of specialist packing services to an expert third party. Contract fillers typically fulfil custom packing orders – measuring and dispensing products into containers and completing quality assurance.
This includes packing dry products and liquid filling, plus specialist services like shrink wrapping, bagging, VFFS, bottling, gas flushing and printing on bags and containers.
Businesses typically hire a contract filling provider when they don't have the resources or expertise to fulfil packing projects in-house.
What products are suited to contract filling?
Our contract filling services extend to all your dry products and liquids. Work with us for specialist contract packing services for foods, edible and non-edible liquids, powders and more.
Additional products suited to contract filling include:
Free-flowing liquids like gels and creams
Dry and granular products like rubs, spices, tea, coffee and seeds
Tablets and gel capsules
Common types of containers
WePack provides contract filling services for a range of products and packing containers, including bags, bottles, pots, jars, buckets and pails.
Additional contract filling containers include:
Doy packs
Stand-up pouches
Jars
Bottles
Sachets
Tubs
Pails
Buckets
Plus, we work with a variety of caps, closures and lotion pumps, atomisers, including screw tops, push-fit and crimps, to keep your products safe during storage, transit and on the shelves.
Why choose WePack?
WePack has a proven track record in delivering contract filling projects. Our expert packers work with you to meet your contract filling needs, including specialist measuring, filling, and printing services. Plus, we're fully food, alcohol and quality accredited, so you can trust us with any project.
We have over 30 years experience in contract packing and we'll work with you to find the simplest, quickest and most cost-effective solution for your products.
Contact us for more information on how we can work together to solve your packing problems.
Benefits of contract filling
Contract filling takes the hassle of packing and quality control away from in-house teams.
At WePack, we have the facilities, machinery, manpower and expertise to undertake even the most complex contract filling projects.
So, if your team is working to full capacity, you lack the resources to undertake filling projects or are launching a limited-edition project and don't want to invest in specialist equipment, we're here to help.
Plus, as we agree project costs up-front, you are able to fully manage your finances.
For more information on contract packing, check out our dedicated guide.
How much does contract filling cost?
Our minimum order fee for contract filling is £1200 + VAT, and additional packing costs will be added to this depending on order quantity and product size.
Visit our costs page to learn more about how our prices are calculated.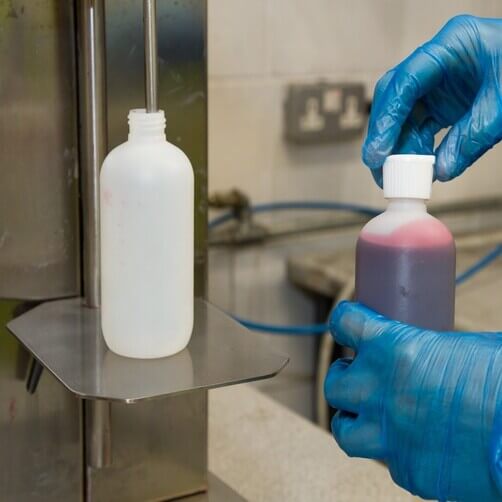 Related services
In addition to our basic contract filling service, WePack offers a range of related services, including: