A Guide to Flow Wrapping (Horizontal Bagging)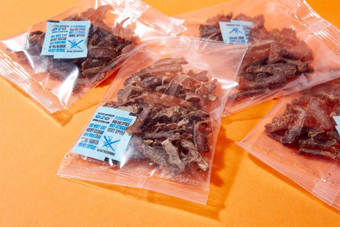 What is flow wrapping?
When your product is flow wrapped you end up with a similar bag to what is produced by a Vertical Form Fill Seal service. It will look something like this:
Your raw material moves horizontally along a machine and then is wrapped in film and sealed at either end.
Flow wrapping is also called horizontal bagging, pillow-pouch wrapping, fin-seal wrapping and crimp-seal wrapping.
What type of product is it best for?
Any solid item that can be pushed along a horizontal belt. A chocolate bar, a pack of biscuits, a pack of tissues, a scratch card; anything that needs to be put into a bag that can ultimately be pushed. Small granular items do not work for flow wrapping – vertical form fill seal is best for this kind of product.
What will the bag look like?
Conventionally a bag produced by flow wrapping is rectangular, though square bags can also be created. The bag can be printed, clear or a single colour.
What benefits does it offer?
Flow wrapping can preserve your raw material and offer protection.
Good flow wrapping minimises the amount of packaging around the product so that it won't move a lot in the package and be disturbed. The amount of material used to seal the pack is also kept to a minimum so that the tails aren't too long. This means the pack can be neatly placed in outer packaging, reducing resource needed and aiding transport.
Flow wrapping can also be combined with something called gas flushing. Gas flushing helps preserve your food for a lot longer by injecting and removing a nitrogen mix into the pack. This displaces the oxygen in the bag.
What materials are used?
Just like vertical form fill seal, bags are made of polyethylene terephthalate (PET) or polyethylene (PE), common types of plastic. It's a strong, robust material that keeps products fresh.
How does it work?
The product is manually fed onto a conveyor belt
The conveyor belt carries the product into the machine where the film is tucked under and over the product to cover it
It then carries along the conveyor belt to the end sealer where the film is crimped to seal it and cut to separate the products into individuals
Watch this video to see flow wrapping in action:
What quantities can you work with?
Generally we pack 2500 to 500,000 packs, though can stretch to larger quantities. If you need more, just get in touch and we can discuss a solution with you.
How long does it take?
Depending on pack size we can pack at 65 – 70 packs per minute comfortably.
What are your prices?
Prices vary depending on the nature of your client's needs. To find out how we can help devise a packing solution for you and what information we'll require to give you a quote click here.
How can we help find the right packing solution for you?
With over 25 combined experienced in contract packing we can find a cost-effective and efficient packing solution that meets any requirements you have. We're used to working with both straight-forward simple jobs and bespoke unusual situation, and pride ourselves on our ability to rise to a challenge and problem solve.
Need a full service from packing to distribution? We can do that too!
Flow wrap printing
Printing options for flow wrapped items are available whether you need something simple such as a product tracking number or a fully branded design. Branded options will increase the cost of the overall job.
Further information