Contract packing for food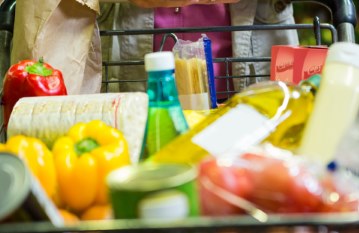 What food can we pack?
We can pack a broad variety of different food items, including any free-flowing granular foods and food ingredients such as:
Sugar
Salt
Pepper
Spice mixes
Seeds
Some nuts
Superfoods
Powders
Liquid food flavours
Food colouring
Smooth sauces
Honey
Coconut oil
Thin pastes
A longer list of the food types we package for our customers
Looking for a contract food packer?
Packaging options and packing methods for food
Food can be packed in lots of different types of packaging. Most food is packed using filling techniques where the packaging is already manufactured and then filled unless using sachets where vertical form fill seal (VFFS) techniques will be used or packing solid foods like chocolate bars that can be pushed along a conveyor belt. These types of food will be packed using horizontal bagging techniques such as flow wrapping. A customer can either supply the packaging themselves or contract packers can help source the required packaging.
Common packaging options include:
Sachets
Pouches, especially stand-up pouches also known as doy pouches
Bottles and jars both plastic and glass
Tubes
Wrapping such as flow wrapping and VFFS (Vertical bagging)
Filling services
Dry and granular products and free-flowing liquids can be packed by filling your chosen packaging. Contract filling techniques are suitable for a wide range of different food products including spices, sauces, oils, pastes, salt and pepper, tea and coffee and a lot more!
Most contract packers will be able to fill a wide range of different containers depending on your needs. Here at WePack, we can fill containers in all sorts of different shapes and sizes within the broad range of 2 millilitres to 5 litres.
These containers can be any kind of material including both plastic and glass.
Is plastic or glass a better material for food packing?
The difference between plastic or glass comes down to a number of factors. The weight and cost are big factors to consider – glass is much heavier than plastic so will add to the overall cost of transportation. However, some food stuffs are simply not suitable for plastic packaging. You'll also want to consider how the aesthetics of your packaging affect your brand and sales. Glass is sometimes preferred because it gives a different impression to plastic, and can be reused by consumers.
If you are using plastic you need to make sure the plastic is safe to be in contact with food. Plastics such as PET, polyester and Poly propylene are common in food containers and pouches, where PVC is usually avoided for such use.
Food grade packaging and guidelines
The UK complies with the EU regulations on food contact materials, which are complex. You can request documentation from your contract packer, known as a 'declaration of compliance' to get assurances that the packaging provided (if they provide it for you) is safe.
Plastics that are considered safe for food include:
Natural grade nylon 6 & 6.6 (without additives)
Acetal
Polyethylene in grade 300 – 500
UHMWPE
Polypropylene
Polyester (PET)
PVDF
PEEK
PTFE
Plastics that are not considered food grade or food safe because they may leach or have hazardous ingredients include:
Nylons with additives
PVC
Polystyrene
Recycled UHMWPE
In general, most plastics, apart from the ones listed above are generally considered safe.
How do you guarantee good hygiene levels?
Food safety is not just about the food contact materials, it's also about all the processes and practices involved in getting your product from raw material to fully packaged item.
We are BRCGS (Brand Reputation Compliance Global Standards) certificated. The BRCGS certificate is recognised by the Global Food Safety Initiative and includes, amongst other factors, site standards, product safety and quality management and hazard and risk management. This means that WePack follow the highest hygiene, maintenance, waste management and site safety practices to ensure your products are packed in the most hygienic circumstances possible.
You can learn more about these standards on the BRCGS website.
How does the packaging affect the shelf life?
Packaging and food life is a surprisingly complex area because all foods need something different to increase their shelf-life. This is why some foods come in vacuum packs, some are tightly sealed and some are loosely packed. The shelf life of food is affected by a number of factors including exposure to oxygen – some foods like strawberries need it to stay fresh, other foods like cauliflower will dry out under exposure – exposure to bacteria and exposure to other contaminants. Packaging is used to try and control the environment a product sits in to optimise its shelf-life.
In general, innovations in packaging are considered to be a triumph of modern technology – they allow us to extend the life of foods considerably. Since different foods need such varying environments, your contract packer will discuss the best option for you and your product before any work takes place.
Food RePacking – your guide to getting from bulk to bagged.
Wepack can receive your bulk food products to their warehouse in almost any format. We then use equipment to weigh, count, and pack down to smaller bags, sachets, jars, tubes, pouches and many other forms of retail sized packages.
See VFFS bagging, pouch filling, and sachet filling on our website for a more in depth picture of what we can do for you.
Further Information
To find out more about co-packing and the types of food and non-food items we pack please contact WePack on 0115 852 9000 or get in touch via the form below.