Introduction to Vertical Form Fill Seal Machines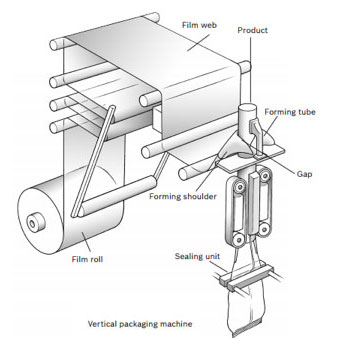 ​The vertical form fill seal machine is a popular method for filling packaging with confectionery, powders, rubs, seeds, and also liquid samples in quantities of 5ml or 10ml. This automated assembly line system ensures that quality, consistency, hygiene and safety are at the core of the filling process, bringing exceptional results on any scale.
How do vertical form fill seal machines work?
Vertical form fill sealing, often shortened to VFFS, is a highly effective system because it forms and packs the bags simultaneously. This is done vertically, which involves flat film being transformed into plastic bags that are then filled and sealed. No time is wasted during this process, as the next bag is formed as soon as the previous unit has been sealed.
Airtight packaging for guaranteed freshness
Product quality is crucial within the food manufacturing and cosmetics industries, with freshness of product being a primary factor. The packaging containing the product needs to be fit for purpose without any exceptions, which is why vertical form fill sealing is frequently chosen for everything from chocolate, nuts, cooking spices and mayonnaise to moisturisers, lotions and other skincare products.
As well as creating airtight packaging, the VFFS process also includes the fitting of a foil laminate layer that keeps flavours and fragrances fresh. The risks of leakage and product degradation are completely removed, resulting in sealed products that remain in top condition.
VFFS ensures total accuracy
As well as being a fast and efficient way to form, fill and seal bags with a variety of products, the system also automatically weighs the materials. This ensures that all doses are accurate, which benefits everything from your profit margins and shipping costs to the satisfaction of the customer.
Whilst consistency comes as standard, VFFS also offers great versatility. Vertical bag filling machines can be set to different width sizes and custom branding is printed directly onto the products, providing an all-in-one solution that's ready to be distributed to your consumers.

​An optimised system that reduces costs
Thanks to WePack's vertical form fill seal machines being designed, developed, operated and maintained to the highest standard, you can rest assured that the system is fully optimised. This means faster production and lower operational costs, allowing us to provide an unparalleled VFFS service that's both reliable and affordable. If your products are less delicate, we can also flat pack them to reduce the amount of space and transportation required, which will cut your costs down even further.
Why choose WePack for VFFS?
In addition to our speed of production and dedication to customer service, there are many other reasons to choose WePack for all of your vertical bagging needs:
We have over 30 years of successful operations to our name
Our state-of-the-art cleanroom and cutting-edge machinery ensure maximum levels of hygiene
We're passionate about sustainability, which is why our premises are powered entirely by solar energy
Our business is BRCGS Food Certified, the highest level of food hygiene compliance
Get in touch about vertical bagging
If you're interested in our vertical form fill sealing service, we'd be delighted to answer your questions and help you to customise our offering to your exact requirements. To find out more, get in touch on 0115 852 9000 or fill in our contact form below.
You may also be interested in...