How online retailers can tackle influx of Christmas orders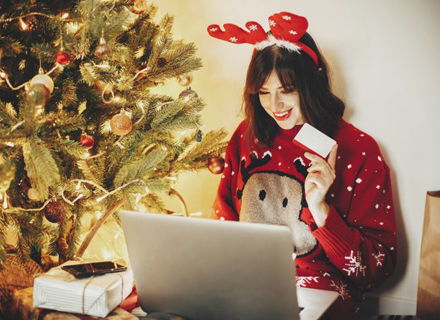 E-commerce is thriving and no more so than at the festive period. According to the latest research, more than half of Brits prefer to do their Christmas shopping online, for a quicker and easier way to buy their gifts.
Reports show that in 2016 online sales soared in the week before Christmas, seeing growth of over 50%. Further findings reveal online Christmas spending totalled £25 billion that year; more than triple the amount in 2011.
Andy Hooper, chief executive of Global E-commerce Experts, says: "Online shopping is just less hassle and grief. You don't have to go out in the cold winter's night and can spend that time with friends and family instead."
A survey conducted by contract packing company WePack revealed that 28% of people consider online shopping more convenient. And while 37% prefer to browse in physical stores, 12% like to shop from the comfort of their home and a further one in 10 don't want to deal with crowds.
Emily Christian, sales assistant at WePack, says: "The high volume of orders during the festive period can cause online retailers to buckle under pressure and succumb to the stress of getting all the packages ready and shipped on time."
Not having sufficient equipment, staff and space to cope with the inundation of orders puts e-commerce brands at risk of losing customers and damaging their reputation. Outsourcing some of the burden to a contract packing company can prevent this, and ensure online retailers meet the increased customer demand during the busy Christmas period.
What mistakes could be made?
Less than 10% of survey respondents were worried about online orders arriving late and damaged when shopping for Christmas presents.
Andy adds: "A typical mistake made is that the wrong orders are sent to the wrong place. Those mistakes aren't common because of technology but they do happen. It's inevitable."
Findings from 2019 reveal that more than one in 10 people left their shopping until the week leading up to Christmas. But this only adds to the pressure on online retailers not to make errors that could spoil somebody's Christmas.
"The consequences would depend on the customer. But If you're shipping out an Xbox for a little child's Christmas present and they don't get it on time, the customer is probably going to be angry," Andy continues.
How to protect products from damage
A rushed packaging job could result in damage during transit or compromise the product itself. This process must be completed efficiently to maintain superior quality.
Emily adds: "Primary packaging keeps [the product] airtight to protect it from contamination, keep it fresh and present it well so it looks attractive to the customer. This can come in all shapes and sizes, depending on the product it needs to hold.
"It's important to choose a suitable sized delivery box so that quite a few items can be packed into it. Make sure there isn't room for the components to move, without them being squashed. Products are often enclosed in a pallet wrap which is waterproof and holds them together."
Whether e-commerce brands are shipping their items to individual customers or in bulk to stockists, certain safety measures must be put in place to ensure products reach their final destination safely. Applying corner posts, card dividers in boxes and double-wrapping heavy items can be effective, while bubble wrap can minimise movement within the delivery box and prevent breakages.
Emily says: "A contract packing company will ensure the products are sufficiently protected and offer advice on how to minimise packaging so more items can be shipped at a time."
Quality checks should be conducted before items are transported to highlight any potential problems. This might consist of caps not being tightened correctly, which could result in leakages, or fragile glass bottles not being protected sufficiently.
Damages often lead to the brand having to complete returns or replace the broken items while losing the value of the original product.
Add a festive design
Altering their packaging design during the festive season can help set brands apart from the competition. A unique design can create a fun unboxing experience, resulting in consumers raving about it on social media and generating free publicity.
To incorporate the festive merriment and give consumers a happy surprise when they receive their orders, online retailers should get creative. This could entail incorporating Christmas iconography to the design or giving customers the option to personalise the packaging.
For a touch of luxury, the packaging material could be altered. Glass is often used for premium products. An extra gloss or matte finish could be applied to glass for additional extravagance.
Brands could also use festive colours, glitter or ribbons to evoke the Christmas spirit. It's also a bonus for consumers if the packaging acts as gift wrap.
Andy adds: "Bigger brands may be able to add a festive design because of the volume in which they ship. However, smaller brands might not because they don't want to be left with festive packaging after Christmas.
"Retail stores often have Christmas carrier bags but you don't really get that online because there's almost no point. The idea of doing it in a retail environment is so others see people with the bags when walking around the shops, but you don't need that when you ship from a fulfilment house to a customer. This saves costs for e-commerce companies because they can just use standard boxes."
With many tempted by online deals and the opportunity to avoid long queues and cold weather, e-commerce brands must be prepared for a sudden influx of orders during the lead-up to Christmas. To ensure the quality of the packaging doesn't fall short, retailers should consider outsourcing the job to experts, allowing them to deliver the best possible all-round service to their customers.