A Guide to Hand Assembly Packing Services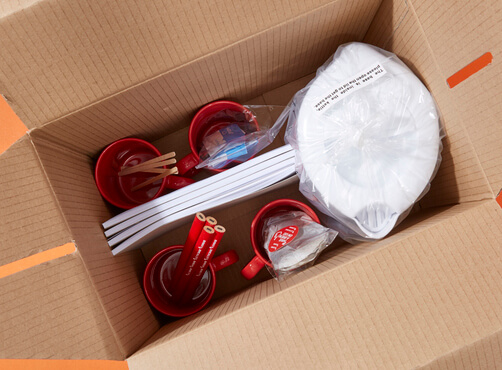 We offer a wide range of contract filling and contract packing services, many of which go through an innovative automation process for speed and accuracy. However, some products require a different approach, which is where our hand assembly service comes in.
FIND OUT MORE ABOUT HAND ASSEMBLY PACKING
What is hand assembly packing?
Any products that can't be filled by machinery instead go through the hand assembly process, which is the manual packing of products by skilled workers. Common examples are large containers or boxes that need to be filled with unique or customised orders, making them too specific for the production line but perfectly suited to a hand assembly packing model.
Which kinds of products are suited to hand assembly?
Anything that's tailored to the customer's preferences will benefit from our hand assembly service. Customised orders such as gift boxes, hampers and other personalised packages go through hand assembly because by their very nature they can't be mass-produced using a machine. Other examples are products with unusual shapes or which need to be grouped together according to factors such as colour or size.
Your products are always handled with care
Even the most sophisticated automated machinery can cause damage to fragile items. If you need delicate products packaging with care, hand assembly is the answer. Thanks to a human being packing each box or container, they can ensure that every item remains in top condition and is appropriately packaged. From mugs, crockery and glassware to any other kind of items that require gentle treatment, our hand assembly service is the perfect solution.
A personalised finish
The entire hand assembly route involves extreme attention to detail and in-depth customisation, which extends beyond the contents themselves. For instance, if the package requires unique branding or labels, they can be added once the container has been sealed. This makes WePack your all-in-one provider of professional packing services.
Expert handlers you can trust
The team of expert handlers here at WePack are dedicated to treating every order, container and individual product with the respect it deserves. The combination of high-quality training, spacious surroundings, clear communication and an unwavering commitment to customer service ensures that your hand assembly jobs will be completed both quickly and carefully. The result is a hand assembly service that you can trust, no matter how unique the requirements, fragile the products or strict the deadlines.
Save time, money and stress
By outsourcing your hand assembly requirements to WePack, you remove the need to create a dedicated hand assembly line in your own premises and gain the peace of mind that you're hiring professionals to see each job through to fruition. We also keep our services competitively priced, helping you to book the highest standard of hand assembly for a very affordable fee.
Explore our hand assembly service
If you're interested in our hand assembly service, we're ready to answer your questions and help you to customise our offering to your exact requirements. To find out more, get in touch on 01