A Guide to Contract Filling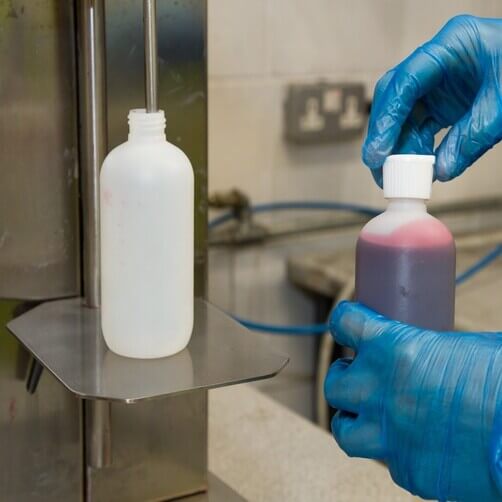 ​When you need specialist packing services, WePack is here to fulfil all of your contract filling requirements. The process of contract filling involves containers being precisely filled with dry or liquid products, resulting in a fast, efficient and reliable method of keeping up with consumer demand.
FIND OUT MORE ABOUT CONTRACT FILLING
Why hire a contract filling company?
Our contract filling service is designed to be very straightforward for our clients whilst offering high levels of customisation. You can choose which types of packaging to use and how much product each unit will receive, ensuring that quality and consistency are achieved across the board. We also provide labelling, barcode printing, sleeving and wrapping, bringing together everything you need under one roof.
Why hire a contract filling company?
If you were to fill and pack products yourself, you would require vast amounts of space, innovative machinery, dedicated staff and up-to-the-minute expertise, otherwise errors, problems, downtime and delays are bound to arise. That's why outsourcing to a specialist contract filling company brings an outstanding return on investment, as you gain the peace of mind that each job will be delivered to the highest standard.
Additional benefits of choosing WePack
Even if you were to manage relatively simple contract filling projects in-house, there are still multiple considerations to factor in. The cost of machinery, systems, maintenance, training and manpower can prove prohibitively expensive for many businesses, not to mention the costs associated with the energy required to power the production line. Not only do we remove these sizeable outgoings from your budget, we also help you to reduce your carbon footprint because our entire facility runs on solar energy.
Products suited to contract filling​
Contract filling is a highly versatile process that can be applied to all kinds of products. Food such as snacks and confectionery are common examples, as well as tablets and gel capsules, dry and granular products like rubs, spices, tea, coffee and seeds, and even free-flowing liquids, such as gels and creams can be filled too. Thanks to innovative technology and strict quality assurance procedures, we guarantee that the correct dose or quantity of product will be sealed within the packaging.
As for the types of containers available, you can choose from jars, bottles, sachets, tubs, stand-up pouches, doy packs, pails or buckets. We also offer different types of closures, such as caps, lotion pumps, atomisers, screw tops, push-fit and crimps, giving you total control over how the end product will look, feel and function.
Limited edition runs
Whilst many of our clients use our services on a regular basis, we're always more than happy to support businesses that are launching limited edition product ranges. Contract filling allows you to hire an expert for as long or as little as you wish, removing the need to purchase expensive machinery that's only required for a short period of time.
Ask us about contract filling today
If you're interested in our versatile contract filling service, we're ready to answer your questions and help you to customise our offering to your exact requirements. To find out more, get in touch on 0115 852 9000 or fill in our contact form.