Deionised Water
What is deionised water?
Deionised water is pure water with most of the mineral ions and impurities that are found in untreated water, removed.
Removing the mineral ions from natural water prevents scale formation, leaving a purer product that is ideal for use in cleaning and other activities where scale build-up proves a problem.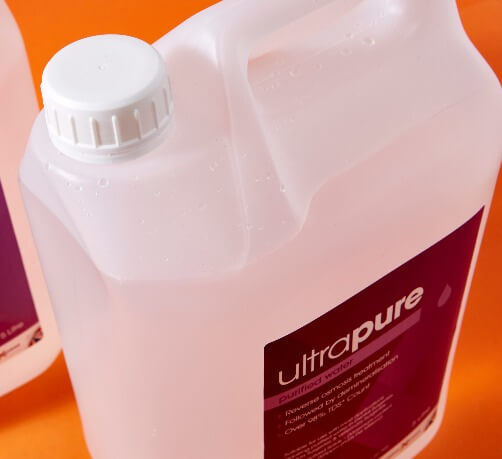 What is deionised water used for?
Deionised water is used in a range of activities that require pure, untreated water. It's especially useful in areas with hard tap water.
Use deionised water in a range of household cleaning tasks like steam ironing and window cleaning, without worrying about leaving white salts and stains on your clothing or home surfaces.
Plus, deionised water can be used in specialised machinery that won't work without pure water. This includes autoclaves, sterilisers, and even car and forklift batteries that require pure, treated water.
Additional uses for deionised water include:
Household appliances
Radiators
Vehicle batteries
Boiler feeds
Aquariums
Why choose WePack?
WePack is a specialist manufacturer and provider of deionised water in the East Midlands. Plus, we're fully quality accredited, so you can trust us to deliver exceptional products and customer service.
We also deliver a complete range of co-packing services – making us the one-stop shop for any packing project.
Contact us for more information on our full range of services.
Product specification
WePack sells deionised water in 5-litre natural jerry cans.